We are two musicians who simply love what we do! Whether it's an evening of jazz
standards or a cabaret revue, we are enthusiastically received by our audiences.
Mr. Wright's superb musicianship shines on piano and sax. Steve and I began our
partnership at the Asparagus Festival at the White Silo Winery in Sherman, CT. several years ago. Together we have over forty years of combined experience and have had the good fortune to work with some of the area's most talented musical artists. We are dedicated, professional and above all, fun!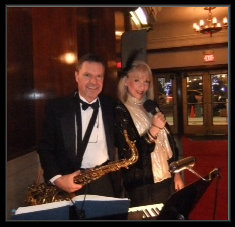 Please ask about creating specific music for your event...
Thank you for considering the Susan King Duo!